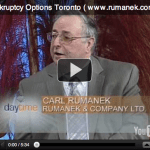 Who handles my bankruptcy?
In Canada, Bankruptcy and Consumer Proposals can only be administered by a Trustee in Bankruptcy, who has been examined and licensed by the bankruptcy division of Industry Canada (the Office of the Superintendent of Bankruptcy).
Licensed Trustees are the most highly trained debt consultants, and the only ones able to impose powerful legal restrictions on your creditors. A trustee can also give useful information and detailed advice about your debt relief options and advise you towards a solution.
It is important to remember that a Trustee has a number of responsibilities that must be fulfilled during your bankruptcy, for example:
for most types of debt, stop collection action and garnishees against your wages;
provide debt counselling;
calculate how much you are required to pay into the bankruptcy based on your personal circumstances;
determine if you have any assets which must be valued and paid out to the creditors;
look into your prior transactions to check for any improper conduct;
refer you to outside resources, if necessary, such as gambling or addiction counselling;
manage and administer your bankruptcy generally.
Contact Rumanek & Company Ltd. for more information on bankruptcy and debt solutions. Or please fill out the free bankruptcy evaluation form. To learn more please visit our YouTube Channel. Rumanek & Company have been helping individuals and families overcome debt for more than 25 years.