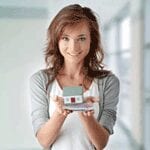 What is a secured debt?
A secured debt can be a debt incurred in order to purchase an asset, like a mortgage given upon purchase of a house. It can also be a loan given with assets pledged as security, such as a finance company that lends you money in exchange for some collateral, such as your furniture or other personal property, which is then registered with the provincial government.   As long as the payments are made as agreed, you can keep the secured asset.
If payments are not made, the lender can enforce their security, meaning they can take back the asset pledged against that loan. So if you stop making car loan payments, the finance company will seize the car. If you don't pay your mortgage, the bank will foreclose on the house. (Note that personal property and furniture pledged against a loan generally cannot be seized, due to provincial legislation prohibiting seizure of such property up to a certain value.)
Bankruptcies and proposals tend not to address secured loans, although they must be declared. Talk to your trustee if you have specific questions or concerns.
Contact Rumanek & Company Ltd. for more information on bankruptcy and debt solutions. Or please fill out the free bankruptcy evaluation form. To learn more please visit our YouTube Channel. Rumanek & Company have been helping individuals and families overcome debt for more than 25 years.