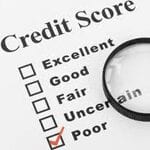 Is your credit rating affected?
When a consumer debtor files an assignment in bankruptcy, the trustee requests that the consumer debtor turn over all of his or her credit cards. Each holder of the credit card will be notified of the bankruptcy and as a general rule, there will be no further extension of credit. While the consumer debtor is an undischarged bankrupt, the consumer debtor cannot borrow any moneys over $1,000 without revealing that the consumer debtor is an undischarged bankrupt.
Once the consumer bankrupt is discharged, however, the consumer's credit rating will be returned assuming that the requirements of the holder of the credit card can be met. Usually within one year of a bankrupt's discharge, one will be able to obtain new credit cards. However, if this is a second bankruptcy or there are special problems arising out of the bankruptcy, there may be some difficulty in re-establishing credit. Credit reporting agencies, such as Equifax, may be consulted by credit card companies before issuing new credit cards. Once discharged, the consumer should contact and advise such credit reporting companies of the particulars of discharge, namely the date, court, judge and any conditions that may have been imposed and satisfied.
Contact Rumanek & Company Ltd. for more information on bankruptcy and debt solutions. Or please fill out the free bankruptcy evaluation form. To learn more please visit our YouTube Channel. Rumanek & Company have been helping individuals and families overcome debt for more than 25 years.