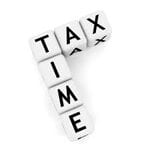 File your Tax Return!  Part 1
Fight the Fear…File your Tax Return! Part 1
It's that time of year again-most people have until April 30 to file their income tax return (If you are self-employed, you have until June 30). We have received many questions regarding Canada Revenue Agency (CRA) and the fear of filing your own tax return. It is very important to file your tax return to gain uninterrupted access to benefits and entitlements. So, here are a few tips to get you started and ready to file…
Step 1: Where do I get an income tax package?
This year the government no longer automatically sends you the forms to file so you have several options:
1. You can download and print the package from the CRA website
2. Order the package by phone: 1-800-959-2221
3. Pick up a tax package at postal outlets and Service Canada Offices
Step 2: Get organized and keep all your records!
Getting organized is half the battle and if you start good organizational habits and skills now…next year will be that much easier!!
1. Collect all employer information slips and receipts for your tax year (If you are missing slips you must estimate your income and deductions)
2. These slips differ and depend on your individual situation and include:
T4 Statement of Remuneration paid
T4A: A statement of Pension, Retirement Annuity and other income
T4E: Statement of Employment Insurance and other Benefits
T5007: Statement of Benefits
3. Tax credit slips: Here are a list of tax credit slips to remember and consider when filing
Children's fitness tax credit (Federal and Provincial)
Children's arts tax credit
Public Transit
Tradesperson's tools deduction
First time home buyer's tax credit
Family Caregiver's tax credit
Step 3: File your General Income Tax T1 return!
Need Help? There is an income tax help line 1-800-499-3930
Watch for: Fight the Fear…File your Tax Return! Part 2
Contact Rumanek & Company Ltd. for more information on bankruptcy and debt solutions. Or please fill out the free bankruptcy evaluation form. To learn more please visit our YouTube Channel. Rumanek & Company have been helping individuals and families overcome debt for more than 25 years.