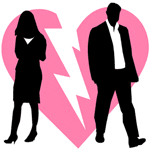 Divorce and Bankruptcy
Dear Trustee,
My husband and I have been  separated for close to a year and a half.  We will officially be divorced in 6 months if all goes as planned. We had our lawyers file a separation agreement and we have divided all of our assets. The house is now officially in my name but my soon to be ex-husband recently told my lawyer that he has decided to file for bankruptcy. This process confuses me and I am worried this may affect my assets in some way because we are not yet officially divorced. Because the house was put into my name only in the past year, does this mean that half the house could be an asset of his he is required to turn over to a trustee? I fear I will lose my home and I need your advice. LM
Dear LM,
Separation and divorce questions regarding bankruptcy are always case-by-case and it is advised to discuss these questions with a trustee in bankruptcy. It may be important to make sure you are the sole person on the title of the house. You should have your lawyer do a title search to make sure all documents are properly signed and registered.  Set up an appointment with your  bank to find out what joint accounts you have with your soon to be ex-husband. It is important to have this information for your safety because if your ex does file for bankruptcy and then gets discharged after a period of time, you do not want to end up responsible for any outstanding joint debts. Make a list of all questions that you have and   set up an appointment with a trustee in bankruptcy in order to ensure you know and understand your rights. With respect to the house, the trustee will need to know its value on the date of the transfer as well as the amount of the mortgage debt that you assumed.  You should also determine if your ex-spouse is still liable on the mortgage.
Contact Rumanek & Company Ltd. for more information on bankruptcy and debt solutions. Or please fill out the free bankruptcy evaluation form. To learn more please visit our YouTube Channel. Rumanek & Company have been helping individuals and families overcome debt for more than 25 years.